Why do Equinesprit Activities ?
Your sessions give you the opportunity to approach your emotions and your decisions from other points of view.  This change of perception opens up a new positivity which links to more opportunities than you thought possible.  In this way it becomes possible to the kind of daily living that does you good, makes you feel stronger within yourself, and you feel a sense of satisfaction and gratitude that translates into joy.   This new perspective is anchored in a sense of peace that accompanies you as you progress.  
You feel freedom from the heaviness that you experienced before and at the same time you will face challenges because change requires energy and courage.   It is this inner peace that remains undiminished even the most testing times that assures your progress.  
How do the sessions ensure this progress?
Our activities are based on key concepts found in Sophrology and Equitherapy and many of the works authored by various spiritual leaders and self development practitioners.  According to these the body is a mediator with a conscious intelligence of its own and collaboration with this source is seen as the key stone to all transformation.  Simply put, all change and learning starts within the physical body and is integrated by the physical body, whether we be conscious of this fact or not.  However, the exciting thing is that in becoming conscious of this process and participating consciously we amplify the transformational power of our learning opportunities.  Simply cultivating consciousness and so becoming the witness to our thoughts, words, and actions creates the optimal environment for success and happiness.  
Both the Sophrology and the Equitherapy have as their priority to enlarge and stimulate the consciousness on all levels: emotional, physical, and intellectual and that this be anchored in physical awareness, enhanced proprioception.   The development of this practice creates an opening which allows us to think and act in coherence with our authentic needs and abilities.  This in itself creates greater levels of well-being and an increase in energy.   
At Equinesprit our activities respond to the need to establish a harmonious body / mind balance in respecting the 3 spheres of Emotional Intelligence, The Healing Word, and Experiential Activities.  In embracing this holistic approach we can consciously and physically assimilate this new connection to our potential. 
Client Feedback
Thank you so much : you listen attentively and you always find the right word or phrase that helps me to advance.
Client Feedback
I appreciated so much our sessions – your perception helped me to feel comforted and to rediscover my enthusiasm.
Client Feedback
I approached Joanne during a difficult period where I felt very shaken.   At first I felt reassured by her ability to listen calmly and without judgement.  Then she proposed a new way to see my reaction and the situation.   This opening to new possibilities helped me broach the reasons and the impact of my situation in a different and freer way.  In fact everything was turned on its head and suddenly I was able to see the situation as a positive opportunity with a new heart-felt confidence in my own capacities.  
Client Feedback
Thank you Thank you Thank you!  I felt so much better after the sessions, and when I left I felt like I was floating on a cloud!  Thanks – to you and to the horses.
Client Feedback
Joanne brings so much to the process:  Her knowledge, her way of sharing it and of living it.  My sessions with her were such a pleasure, and when you leave you feel "pumped up" and full of this desire to forge ahead and finally be yourself, simply, entirely.
Client Feedback
After my sessions I felt a new surge of energy.  I really want to change my approach now, I see that it is possible.
Client Feedback
I am able, thanks to our sessions, to go and face the situation.  Without your help I would never have been able to accept to do that.   Thank you again, a thousand times over.
Client Feedback
Thank you Joanne.   You surely don't know just how much you helped me during this difficult time.  And I see that I am much less apt to fall into old habits which created stress and unhappiness within me.  I think this is because since our sessions I am more anchored in awareness and the sense of reassurance that it brings with it.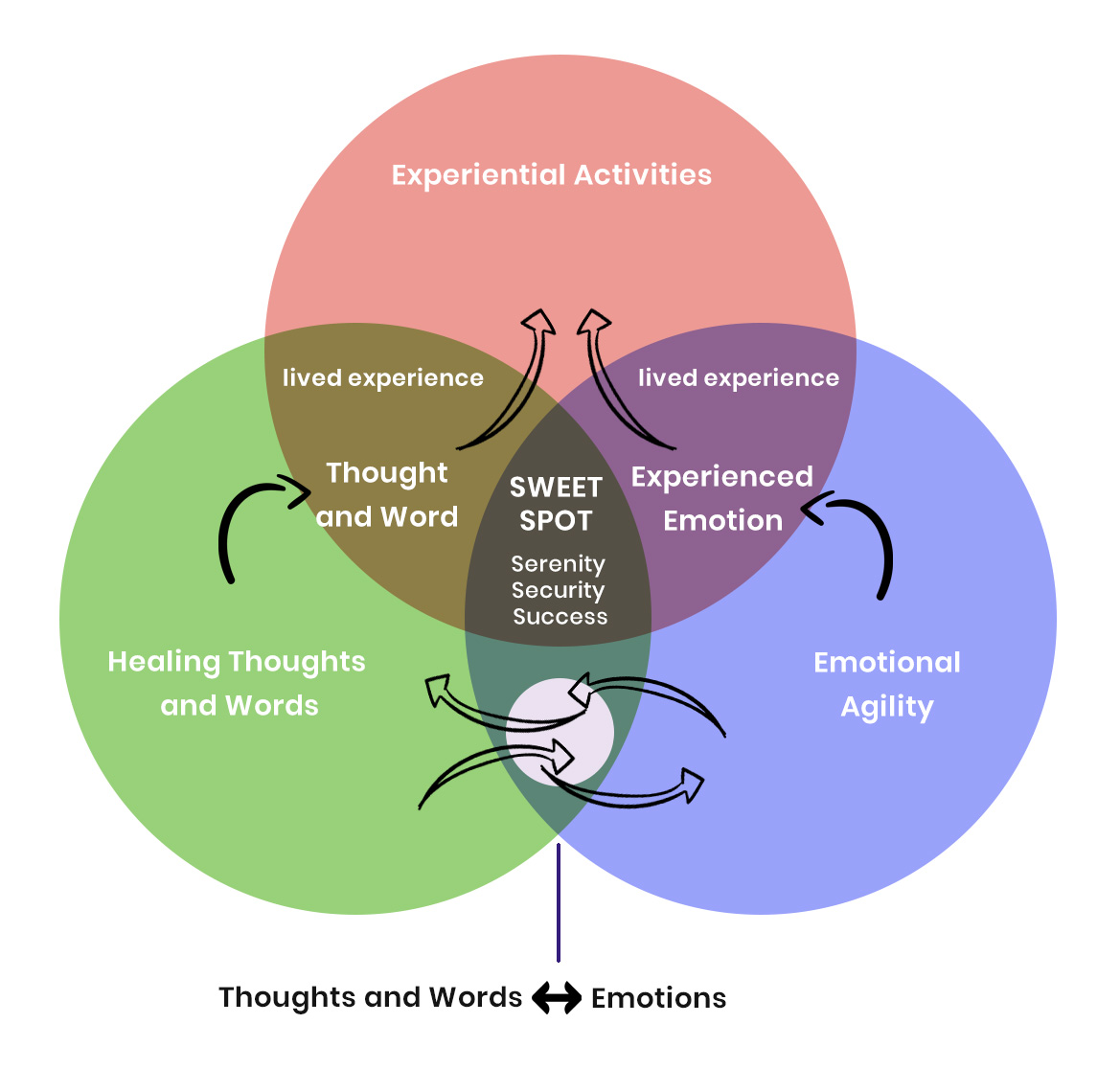 The interaction of the 3 spheres
Each session incorporates elements from each sphere.  This is because they are all part of the foundation that allows us to advance in a balanced and progressive way. 
If you feel you have a particular need to focus on a specific element, let's say emotional agility, then this can be the focus of the session all the while that we implement the other poles to allow the best assimilation of the new awareness.  
The opportunity to practice the exercises yourself between sessions is important because your progress depends on your personal investment and your desire to advance.   The sessions target specific elements and blockages so that things as you notice things advancing clearly and efficiently you feel a rise in confidence.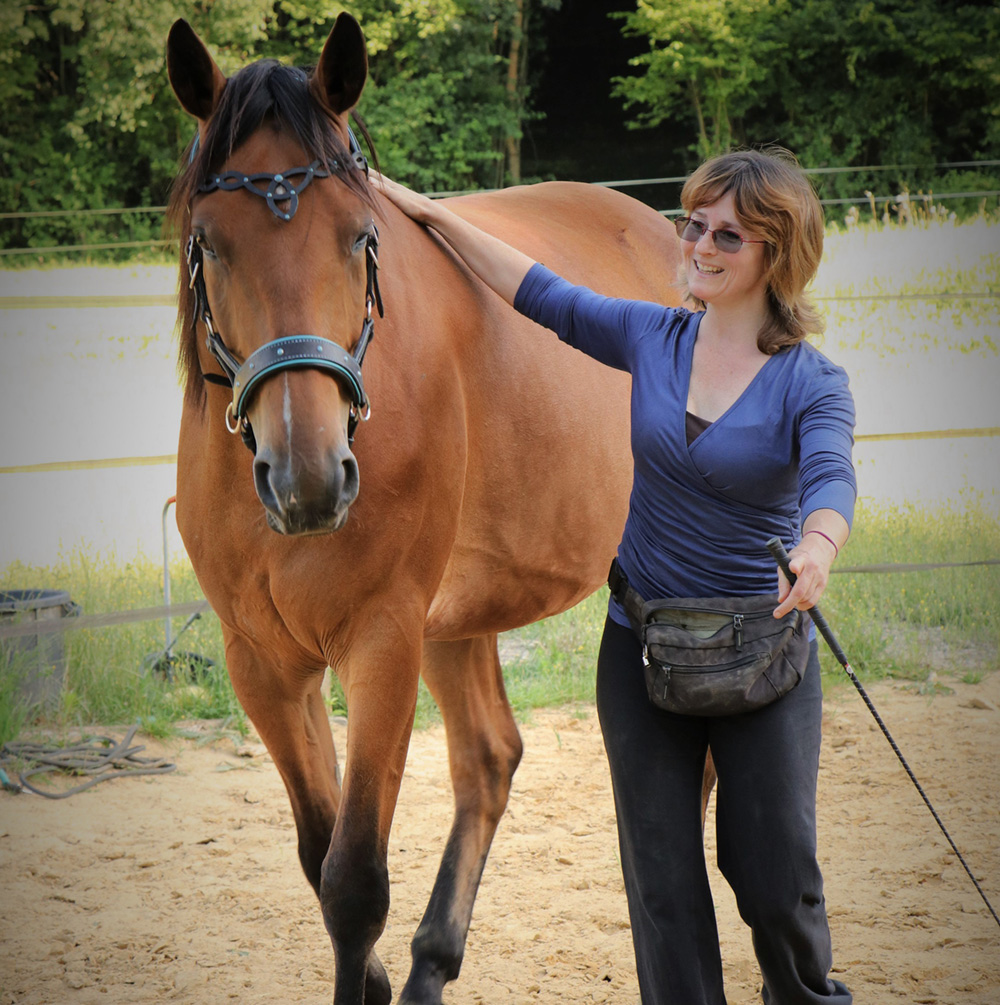 How are the sessions organised ?
Discovery Sessions
To begin your development process you can experience a discovery session which lasts around 2 hours.  This first meeting is to allow you to share your feelings, your vision, and how you see your needs.  It is also your opportunity to discover the Equinesprit approach and for us to define together the best way to move forward.  During this time we would fix a clear and measurable objective for your program, and the number of sessions that would be proposed for this objective. 
Periodic Support Sessions
Support Sessions last for around one hour. These are for those having already started their development process and can be done by distance or in face to face consultation.  This choice would depend on several factors – the objective for that particular session, and whatever possibilities / limitations exist on a logistical level.
Small Group Sessions
The small group sessions can welcome up to 4 people and are available for those already having started their development process.  The key in choosing which is the most appropriate session for you resides in the type of accompaniment you are looking for: shared, one on one, intensive, or relaxed.   The type of accompaniment is most often strictly linked to the objective behind your initiative.
Advanced Transformational Protocols
Some beliefs and behavioural habits have been with us so long they require a more particular investment.   There may be something you feel has hampered you for a long time, despite various efforts to overcome it or change it.   There may be something you have long wished to accomplish but have never found the way to make it become a reality.  Together we decide on a long term accompaniment spread over a defined time frame, giving you the optimum opportunity through learning and assimilation stages.   This is a made to measure approach that allows you the time and the space that you need to break through!
Evolution of Needs
As you progress we take the time to note your feeling, and mine also because it can happen that the objective is modified in respect of your changing perspective. This flexible approach is essential to the process because your perception will change and as a consequence the way you wish to advance changes also. 
Also each person's path is unique, and we find the number and frequency of sessions that is optimum for you.
Can I choose between Sophrology and Equitherapy ?
The vision at Equinesprit is to accompany the feeling of the client, indeed following that inner voice is the foundation of our sessions. It is entirely possible to participate in Sophrology sessions without adding the experience of Equitherapy. The only real difference between the two approaches is the presence of the horse allows for an amplification of the results. The assimilation and the expansion of consciousness is facilitated and can happen on an even deeper level.
In Sophrology the assimilation of new concepts at a cellular level is facilitated by dynamic relaxation exercises. Through these specifically designed exercises your level of conscience is expanded and so allows you to assimilate new concepts in real time. L'Equitherapy has the same goal.
The presence of the horse simply facilitates this assimilation. In the desire to test these new ways of feeling and of being in real time experiences, and in alignment of the mind, body, and heart, the horse is an unequalled partner for this exercise.
If you wish to deepen your knowledge of the beneficial effects of the equine presence on our physical and mental health you can find articles on this subject in the blog.